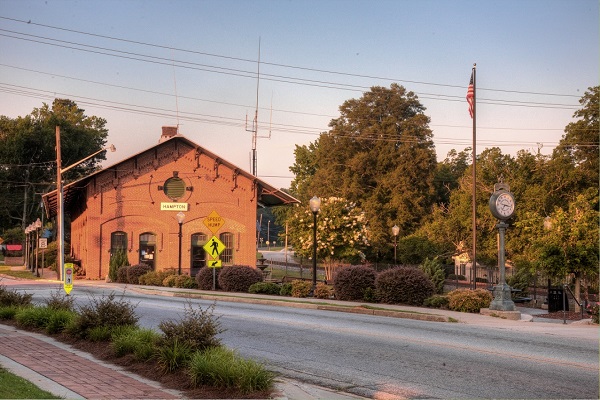 Hampton GA Real Estate & Homes for Sale
Hampton GA real estate & homes for sale
, located in the southwestern part of Henry County. Residents enjoy a mix of suburban sprinkled with a rural mix and most residents are home owners. The City was originally known as Bear Creek and renamed Hampton after it was established in 1873.
According to
Bestplaces
Hampton has a population of around 8,200 people and is 28 miles from downtown Atlanta. The median home price is around $260,000 and the average age is about 38.5 years. The current unemployment rate is around 4.4% and jobs have increase by 2.9%.
Hampton GA Real Estate
Visit Hampton GA and soak in the friendly small-town atmosphere. It is chocked full of history and tradition. If you are looking for charm, you will inevitably find it when looking for Hampton GA real estate & homes for sale. Oak trees line the streets surrounding stunning antebellum historic homes. The old cotton mill has been converted into lofts. Many former stores on Cherry Street are now townhouses. Even the jail has been transformed into a booming brewery. The Train Depot is more than a hundred years old and listed on the National Registry of Historic Places. It is frequently rented as an event space for weddings and birthday parties. Downtown was recently renovated, updating facades and buildings.
Annual Events in Hampton GA
The City of Hampton hosts annual events each year, such as the Yellow Pollen Street Festival in March. Check out the Bear Creek Festival held each September. Bring the family and take in all the vendors, food, arts & crafts, antique dealers and of course the kid's area. Take in the annual Christmas Tree Lighting and Christmas-at-Home parade with live reindeer.
Hampton GA Sports and Recreation
Hampton GA is one of only 213 communities in the United States to be designated a "Playful City". It is the only city in Henry County to hold this status. McBrayer City Park is a favorite with the kids. It offers a full playground set, splash pad, tennis court, soccer goals, and basketball court. The young at heart can step up to the challenge of the new designed skate park. Get your baseball on at R.W. and Mary Lou Coley Park. Atlanta Motor Speedway is home to the NASCAR Cup Series each year. It holds many other events and activities throughout the year.
Hampton GA History
The city is full of history and home to Nash Farm Battlefield. Many believe part of the Civil War took place here. Hampton is the home of the Atlanta Motor Speedway and the Atlanta Speedway Airport. Enjoy a tour or stroll through before ending your day at the Speakeasy Bookstore to grab a cup of coffee and a novel.
Hampton is an ethnically diverse community with excellent schools. The crime rate is lower than 73% of Georgia communities, making it a safe place to call home for all stages of life. If you are looking for charm, you are sure to find it when looking for a home in this southwestern city of Henry County. Hampton GA is home to the luxurious Crystal Lake Golf and Country Club community. If you cannot find your Hampton GA real estate, check out other homes for sale in Henry County or anywhere in Georgia. When looking for Hampton GA real estate agents contact Chuck!