A Few Homes Chuck Has Sold
"Experience Matters"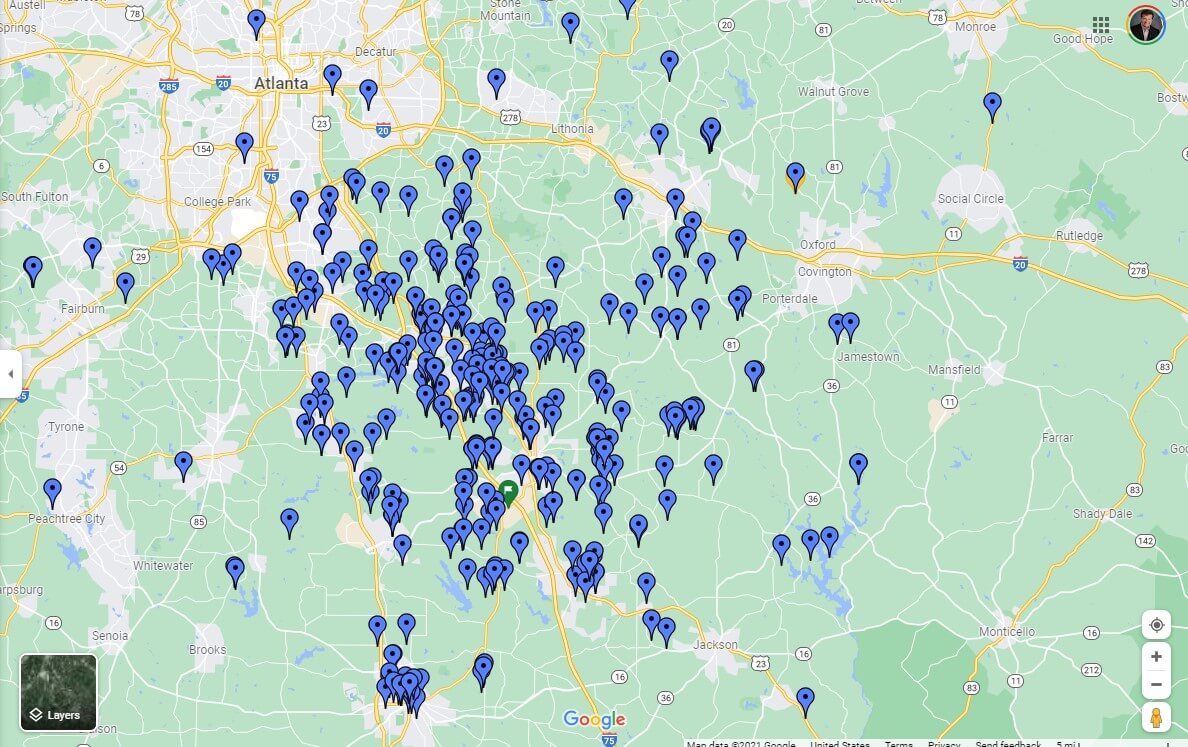 About Chuck Tanner - Continued
Would you be proud to work with and pay an agent that knows less about the process that you do? Of course not! You're a real person with real needs and priorities and you deserve to work with someone that wants to earn your business for a lifetime by going above and beyond the call of duty to deliver real results.
Chuck holds an Associate Broker's license along with designations in Senior Real Esate Specialist, Accredited Buyer's Representive, e-PRO Technology Certification and various designations working with foreclosed properties. Chuck has also completed Basic Appraisal Principles.
Buying and selling real estate in Atlanta or the surrounding area is a unique experience and one that can be made or broken; depending on who you hire as your real estate agent. Let's face it, whether you are buying or selling a property in this area, it can be downright stressful. If you don't have someone that has been through the ups and downs, the brutal negotiations, and the swings in the market, you will be left financially vulnerable and feeling overwhelmed.
When you hire me as your real estate agent, you will be able to leverage my 20+ years of experience to ensure that:

Your house is priced right the first time
You come out on top in a multiple offer situation
Your offer is structured strategically to get you the best possible deal
If you want to ensure that you are going to get the best bang for your buck, you need to hire an agent that won't just claim to have knowledge about the market, but actually has the experience to back it up.

Don't just take my word for it though, check out what a couple of my hundreds of clients from the last two decades have said about what it is like when you hire me as your agent:

Chuck Tanner Testimonials 1
"Folks, I don't normally write reviews but I MUST share my impressions about Chuck Tanner. THIS GUY IS EXCEPTIONAL!!! I enthusiastically share this review because I know what he did for us purchasing a newly constructed home. If you want a heavyweight who will absolutely fight on your behalf then contact Chuck. Having bought about 13 homes including investment properties over the years, we are VERY savvy homebuyers. However, Chuck saved us thousands of dollars because he knows the games builders play and every homebuyer or home seller strategy on earth. He caught things in the contract that we missed, he went head-to-head with agents and over the head of folks when he wasn't getting the answers needed for us, his client. Integrity, knowledgeable actually FUN to work with! On top of all of that, he has a really cute dog! You won't find another one like him; Chuck, not the dog." Drew and Brenda

Chuck Tanner Testimonials 2
"Relocating from Vallejo California, to Locust Grove Georgia, was one of the most difficult challenges I had ever endured, however, From the first moment I spoke with Chuck Tanner from Keller Williams, in the state of Georgia, I knew I'd found a winning real estate agent! Mr. Tanner's professionalism, real estate knowledge, prompt service, likable people personality, and his ability to pay attention to detail, regarding what my husband and I was looking for in our dream home, made us feel like we were in very good hands, we put 100% trust in Chuck. This is truly our testimony. We never physically went to Georgia to look at the home we purchased, we viewed pictures on the internet, Chuck went to the property for us, did a walk- throu, took lots of pictures, answered all of our questions, did an outstanding job describing the house to detail, he also told us that the neighborhood was a great neighborhood to move into, the surrounding homes in the neighborhood, we're very well kept, described things about the house that were not captured in the pictures, or captured in the description of the house. Chuck went the extra mile for us, and because of that, I recommend my real estate agent, Chuck Tanner, of Keller Williams, to anyone who is seriously thinking to buy a home in Georgia. You would be getting an agent that is Efficient, Knowledgeable, Friendly, and best-of-all.... he gets The Job DONE!!! he did it for us, Within our time frame. We are very happy in our Dream Home, we are the Wiley's, Leon and Robin, and we vote our real estate agent, Chuck Tanner from Keller Williams the number one agent of 2018. Thank you Chuck Tanner for helping us find our Dream Home." Leon & Robin

I Would Love to be Your Realtor!
When the time comes for you to buy or sell a house in Atlanta or the surrounding areas, don't settle for empty promises from less experienced and passionate agents! Call me to find out exactly how I will help you avoid disaster while helping you achieve your goals.